How to Choose the Right Paracord for Your Next Adventure


---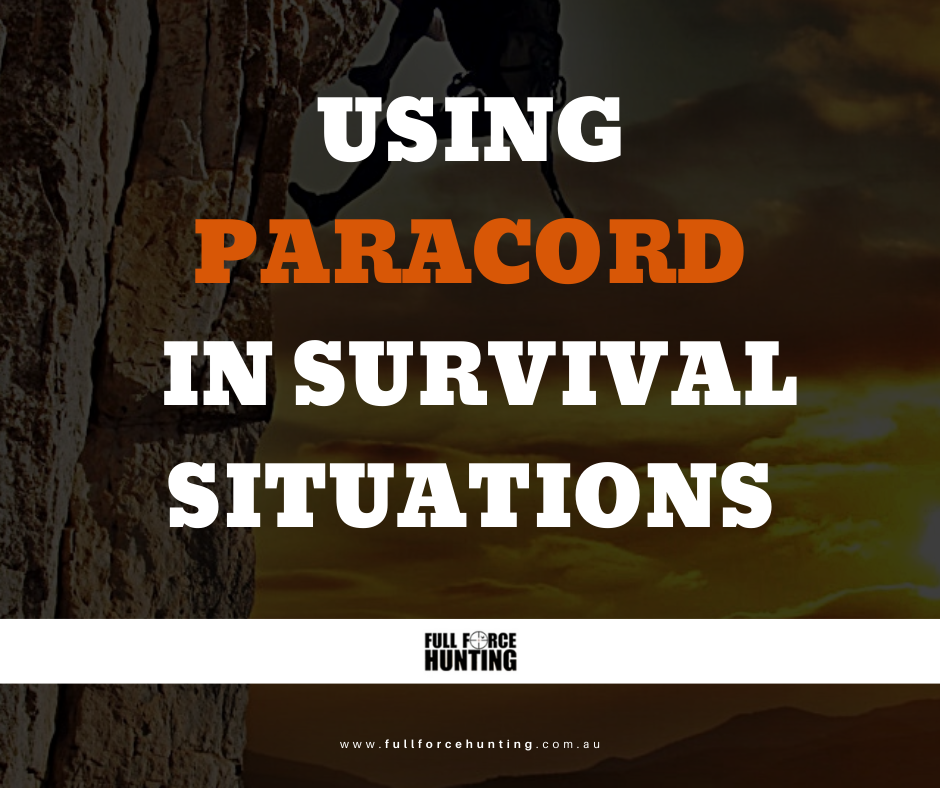 A paracord, or a parachute cord, is simply a rope that's made of nylon kernmantle and it was originally meant to be used in suspension lines for parachutes. However, the paracord is so versatile that it has become a general-purpose utility cord. It has even been used by astronauts. More specifically in the 82nd Space Shuttle mission to repair the Hubble Space Telescope.
The paracord's braided sheath consists of 32 interwoven strands that make it quite smooth, and because it's made entirely of nylon, it's also elastic. For these reasons, the paracord is one of the most essential items a survivalist can have in their backpack. Paracord survival is one of the smartest things you can do.
Why? Because it can be used in many different situations. What's more, there are different grades of paracords, which means you'll be able to choose the one that suits your needs the best. This rope can also be woven to make paracord wristbands that you can always carry with you for easy access.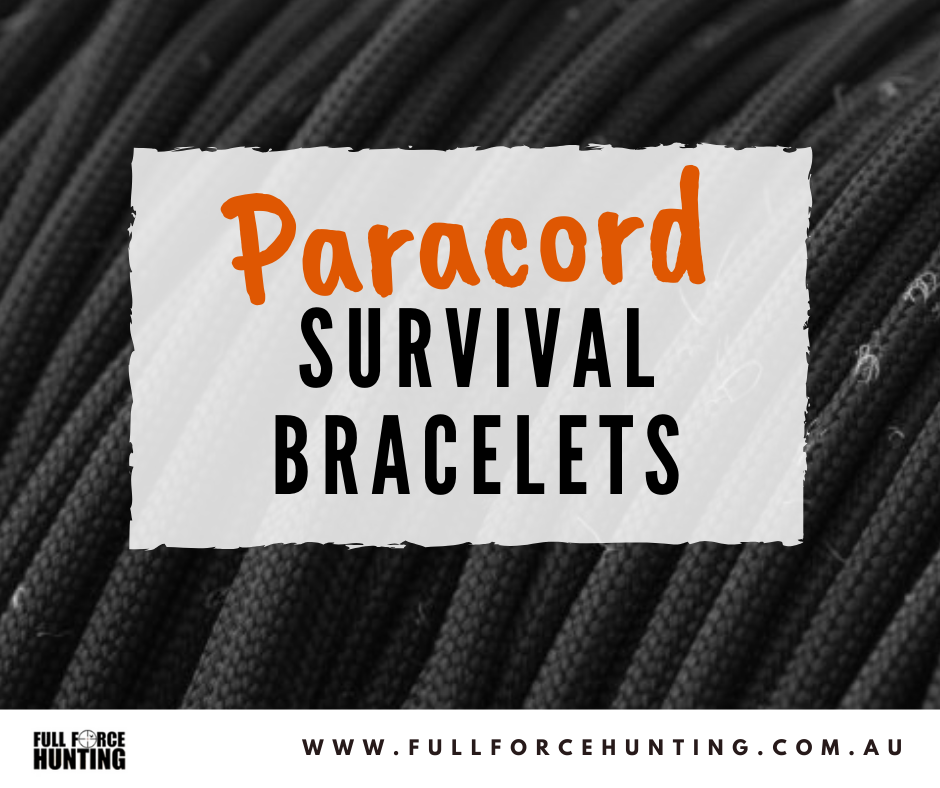 Paracord Survival Bracelets
These paracord wristbands are known as survival bracelets and they're common among outdoor enthusiasts, adventurers, and outdoor sports athletes. These bracelets are made of several feet of paracord and they can be unravelled whenever you need them. Whether that's to fix broken straps, to use as belts, to secure cargo, etc., your paracord wristband will have your back.
Another great thing about paracord is that it has a lot of tensile strength, at 550 pounds, compared to how lightweight it is. This makes it useful in situations where you need your rope to stay robust while carrying substantial objects. This rope makes use of seven inner strands that are each made of two smaller strands, which are reinforced by a nylon sheath made of 32 strands woven together.
The paracord used to only be used in the military, but this changed after World War II, when it became available to the public as military surplus. Since then, it has been used for survival, rigging, and retention, among other applications.
There are many different types of paracord on the market today, but the best ones are the MILSPEC rated ones because they have a stronger inner core. Paracords have become so commonplace that girl scouts and boy scouts are taught about its uses and importance. Speaking of which, let's take a look at how you can use paracord in different emergency scenarios so you can get out of a pickle effectively and without too much effort.
Paracord Uses in Emergency Scenarios
When you find yourself in an emergency, a paracord can be quite useful, but only if you know how to use it. Here are some of the most common emergency uses for paracord that you should be aware of:
Sling:
A sling is necessary when you get injured in a location that requires you to control your movement, such as a shoulder or an arm. A sling provides similar protection to a splint, but not all injuries can be splinted. Slings provide limited movement, which reduces pain and the risk of further injury.
Much like a splint, a sling can be made by using a jacket or a soft fabric and a stick or a ruler for stability. The paracord can be used to tie a slip know around the wrist, the jacket and the stick. Make sure you pull the paracord back behind your neck and tie it to the elbow the same way you tied it to your wrist. You'll also want to place a piece of fabric under the paracord that goes around your neck to prevent irritation from rubbing. If you want the sling to be stronger, simply braid or make the cord double or triple.
Tourniquet:
In case of extreme injury where you're dealing with uncontrolled bleeding, cutting off your limb might be the only way to survive. Arterial injuries or other injuries that cause unstoppable bleeding require the use of a tourniquet as a last resort. In such instances, it's preferable to have a rapid application tourniquet, but if a paracord is all you have at hand, you can use it and it will stop the bleeding. You need to act fast in such situations, which is where a paracord wristband comes in quite handy.
Raft:
If you find yourself stuck by a stream or river that has overflown since you last stepped through it, building a raft will be the only safe way to pass. All you'll need is a few logs, your paracord and a few knots as well. With these items you'll be able to build a raft that will get you through the stream or river safely, without having to suffer freezing waters.
Now that you know what you can do with a paracord in case of emergency in the wild, let's take a look at 3 very important paracord items every adventurer should have.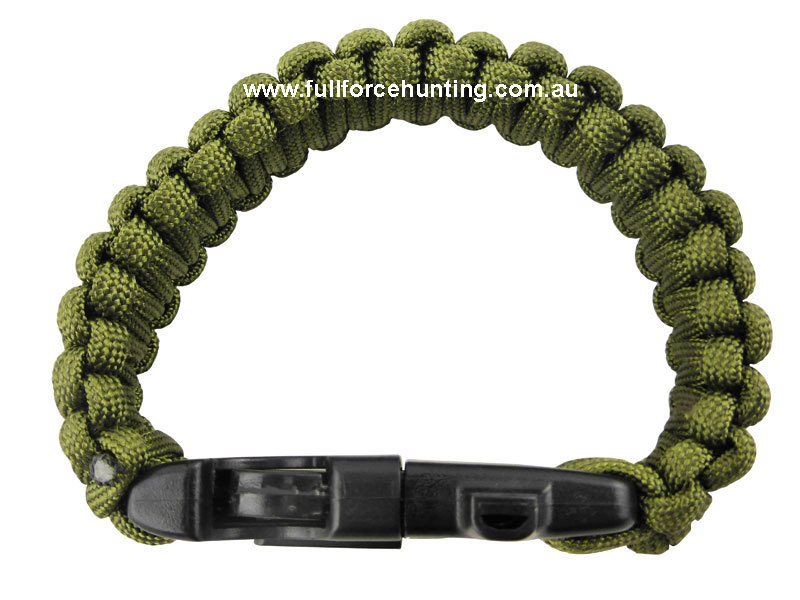 1. Paracord Survival Wristband
This paracord survival wristband doesn't only look good, it will also be quite useful in many different situations.
It features an emergency safety whistle that can go up to 110 decibels, a fire starter rod, a flint striker, an emergency cutter, and of course 3 meters of 550 paracord.
This paracord wristband is light to wear, the whistle will be useful in case you get injured or separated from your group, and it can of course be used to build a tourniquet, make a spear for fishing, a splint, and much more.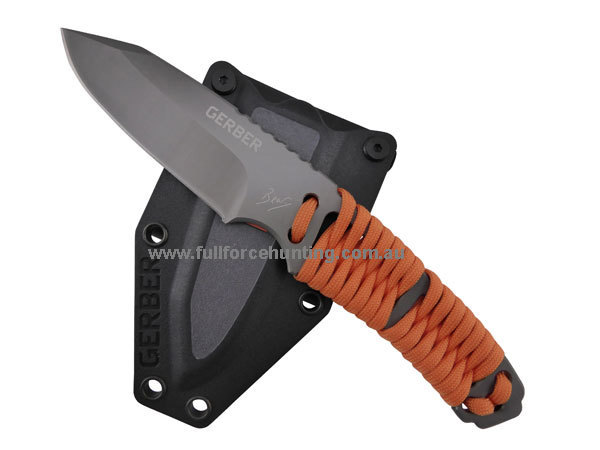 2. Paracord Fixed Blade
This next paracord item comes from Bear Grylls and it's a paracord fixed blade that's sturdy, lightweight and very effective. The robust knife of only 197mm in length is easy to carry on all your trips, including hunting trips, camping trips, and more.
The design is minimalist and the blade is well-balanced. Plus, it won't add grams to your backpack, which is important to keep light. The 114cm handle on this knife performs great with our without a paracord. You'll get full grip, no matter the size of your hand, which will give you plenty of control and power.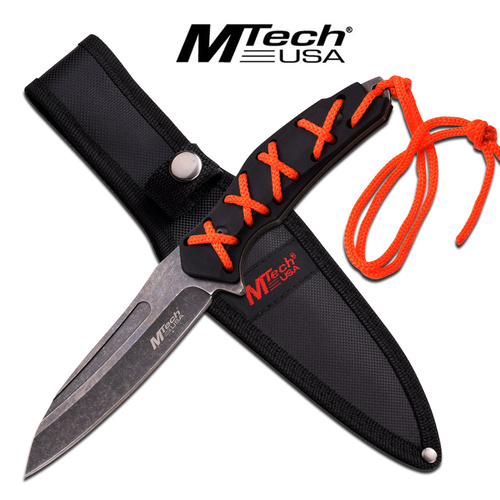 3. Stonewashed Fixed Blade
Last but not least, we have this stonewashed fixed blade from MTech USA. It's made of stainless steel, which means it will be easy for you to sharpen and it's corrosion resistant.
This useful blade is tough and it's easy to carry given that it's only 245mm long. It will be ready for you and any challenge you happen to encounter on your trips.
What Is Paracord Made Of?
A paracord is made of nylon, which is why it has elasticity to it. Commonly, paracords have an outer sheath made of nylon and individual nylon filaments as well.
The number of filaments will determine what type of paracord you have on your hands. These filaments are not fastened, which means you will be ł so appealing and useful, because you basically have many ropes in one. Each filament you pull out can have its own purpose, which is another reason why this item is so versatile.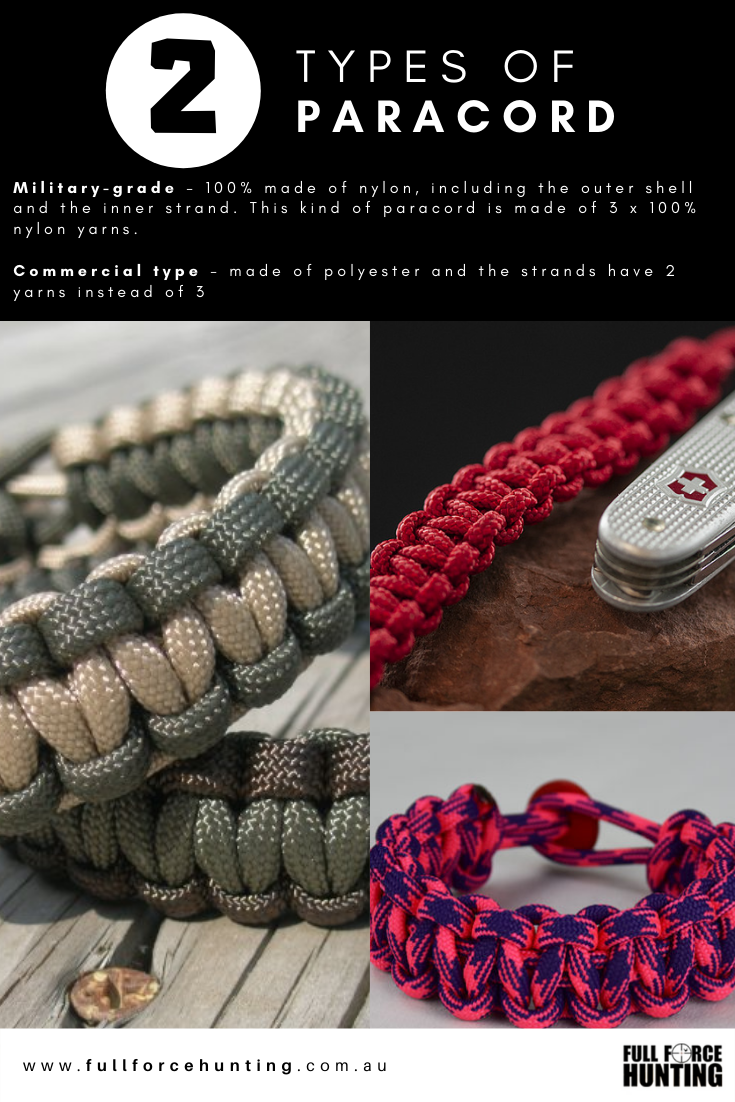 How Can I Tell What I'm Purchasing Is Paracord?
If you want to know whether you're purchasing a military-grade paracord or a commercialgrade paracord, you need to be able to identify what makes military paracords stand out.
First, military-grade means it's 100% made of nylon, including the outer shell and the inner strand. That means this kind of paracord is made of 3 x 100% nylon yarns. The commercial type is usually made of polyester and the strands have 2 yarns instead of 3. These types of paracord is still fine, but they're definitely not military-grade.
So, if you want to identify the kind of paracord you're purchasing, check the number of yarns it has in the inner core strands. If they have 3 yarns, it's military-grade, and if they have 2 yarns, it's commercial-grade.
Another way you can figure out the grade of the paracord is to determine whether the strands are made of nylon or polyester. You can do this by taking the ends of one of the straps and burning them with a lighter. Nylon will join with nylon but not with polyester.
If your inner strands are made of polyester, then that will be a problem if you ever need to make a single mega line from all the strands. They simply won't bond with the outer nylon layer if you ever need to do this.
How Can I Store My Paracord?
Knowing how to store your paracord is also very important because it will degrade if it's exposed to the sun for too long. That's the only thing that will affect your paracord. Other than that, usual wear and tear will definitely take its toll.
To avoid degradation caused by UV light, make sure to store your paracord in a dark place and don't overuse it. If you notice your paracord has been though too much, replace it on time. The last thing you want is your paracord to break when you need it most.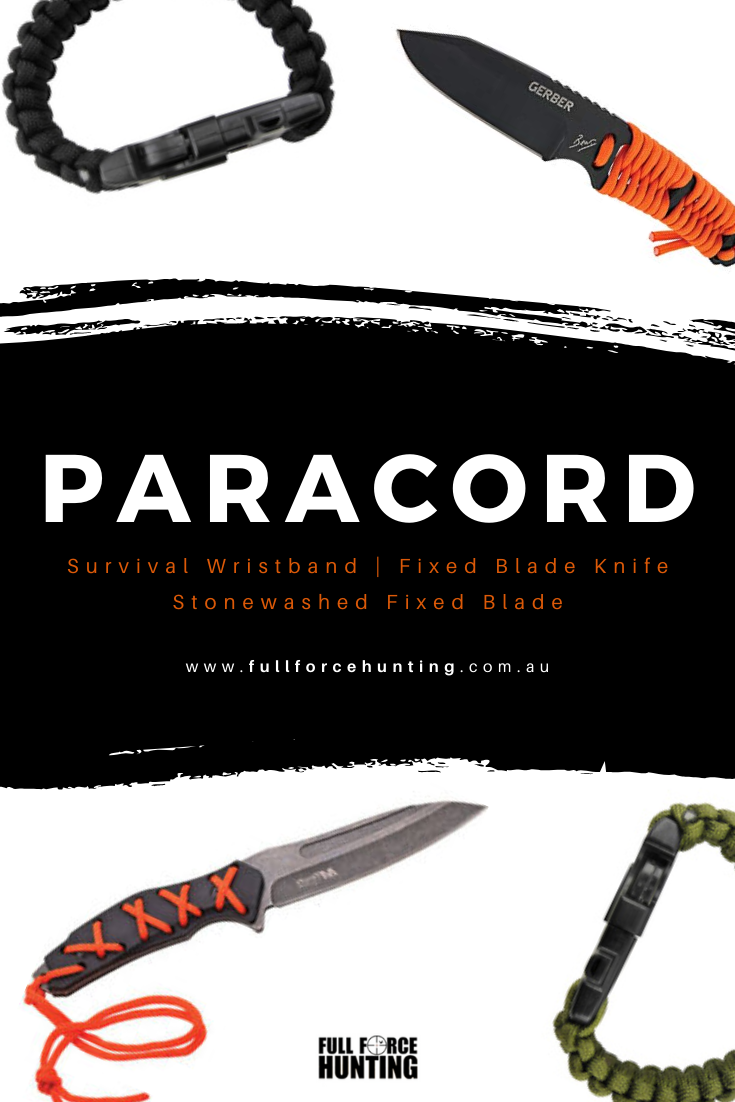 ---
Leave a comment