Throwing Knives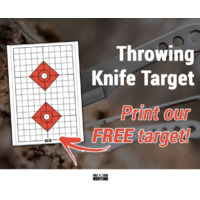 Your ultimate guide to buying the right throwing knife for your skill level. From novice to skilled thrower, this guide will help you through the jargon.
Knife throwing is a great hobby and teaches you coordination and patience. You can basically throw any kind of knife, but there's a reason why "throwing knives" are a thing.
Unlike regular knives, throwing knives are designed with both balance and aerodynamics in mind. They are generally shaped in a way that lowers wind resistance to achieve faster speeds. Ideally, you want to find a throwing knife that's made of high quality stainless steel for lightweight throwing and faster throwing speeds.
Size Matters
Another factor to consider when buying a throwing knife is the size. Ergonomics in knife throwing is essential, as you need to feel comfortable when throwinging a knife. Throwing knives typically have dimensions between 6 to 12 inches long, and 110 grams to around 450 grams in weight. Large, heavy knives are a solid choice for beginners. They're easier to throw with force, and they tend to rotate slower. For the more skilled user, small knives allow for more precise throwing, more rotations and easier handling and safekeeping.
You also need to consider the knife's design and style. From simple, minimalist knives to ornate, elaborate blades, the knife's style will help you add more feel and tension to your throwing efforts. In fact, knife-to-handle balance is more important than throwing efficiency. Blade-heavy knives, handle-heavy knives and balanced knives - these are the 3 main knife styles to choose from in finding the right knife for you.
Where can you find a good throwing knife?
Where else but in Full Force Hunting! Our website caters throwing knives from your favorite brands in all shapes and sizes. Browse our extensive catalogue and find the perfect throwing knife today at www.fullforcehunting.com.auGuide to buying a Throwing Knife
Pratice your throwing knife techniques with our free printable throwing knife target. Click on the image below and download the ready to print PDF. If the file does not automatically download, you can right click then choose save.